What better way to christen a brand new kitchen than by hosting a dinner party for friends.
These deceptively simple dishes will impress them, and more importantly, give you the opportunity to get familiar with all of the appliances and accessories in your lovely new kitchen!

Aperitif:
No dinner party would be complete without a special tipple to whet the appetite and toast your cooking accomplishments.


To complement your Indian menu, give your guests a choice of either a cucumber and mint cooler, which is ideal for those who don't drink, or a mango lassi cocktail for those who do.
Both drinks are equally delicious and refreshing, and more importantly, unlike simple wines or beers, they give you the chance to use your new accessories and show of your skills in the kitchen.

Starter:
A tapas style starter gives your guests the opportunity to chat and break the ice as they break the bread.


Try making your own flatbreads and serving them with a choice of dips. The benefit of a tapas style starter is that dishes like garlic mayonnaise, raita, and spicy tomato salsas are all easy make and can be prepared in advance.
This makes it easy to play with all your new gadgets in peace, and leaves you free to concentrate on your main course, unflustered, when your guests arrive.

Main:
This recipe for spiced, aromatic Goan Chicken curry is simple, yet utterly delicious.


When you've got a new kitchen, cooking is a pleasure and this recipe gives you the chance to road-test your shiny new hob and spice rack, and if you have them (if not – treat yourself!) those brand new cooking pots and pans too.
Marinade your chicken in the blend of paprika, turmeric, coriander, cumin and cayenne pepper spices; this dish is spicy as opposed to hot, but if you like a little kick in your curry, add some finely chopped chillies too.
The longer you let the chicken soak up the marinade, the more flavoursome it will be and what's more, the smell of these aromatic spices will have your guests' mouths watering with anticipation as soon as they arrive.
For authenticity, serve it with some steamed coconut rice and a selection of poppadums and chutneys.

Desert:
After all those spices and flavours, it might be nice to offer your guests a sweet and refreshing desert. This recipe for lychee and ginger sorbet is incredibly light and can be made a couple of days in advance.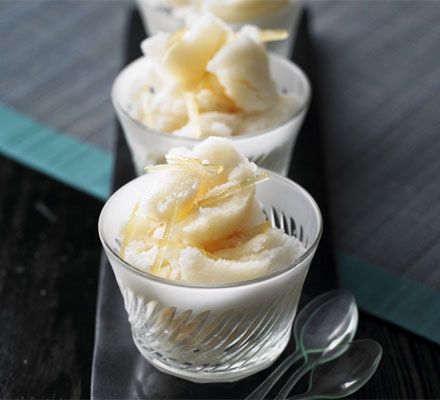 As the dinner party winds down, you can just sit back, relax, accept the compliments and revel in the envy of your guests!
The only thing left to do is load the brand new dishwasher to take care of the mess, and decide what kind of cuisine you're going to serve next time; your guests will definitely want more.
For information or inspirational ideas on how you can renovate your kitchen to entertain family and friends, get in touch with LWK Kitchens, the London based design and equipment specialists who can turn any space into a stunning kitchen.