This is a guest post by Cassie Corbett.

As the weather gets brisk, my house tends to get warmer. This isn't just because of our heater, though I could probably be accused of overtaxing the poor thing. I tend to cook and bake a lot more in the fall and winter. Whether it's subconsciously wanting the oven on to spread heat through the house, or the fact that cooking gives me that warm feeling inside, I don't know, but I do so enjoy staving off the cold with some good food.
I love soup, but my favorite ones are pretty heavy, so I don't eat them much when the weather is warm. So now I'm celebrating the fall winds by sharing my favorite chowder, my sausage potato soup.
This recipe started as something I found online, and then revised until it was practically unrecognizable. It's gone unchanged for the past few years, so I think I've got it down to the perfect combination of ingredients. You don't need any fancy tools for this recipe, but I do find that some nice kitchen cookware such as a good stock pot and a food processor do help in making consistent recipes every time, and making the cooking process easier.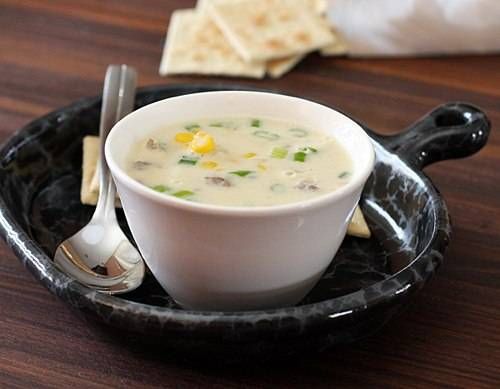 Ingredients
3 large carrots
2 stalks celery
1 small yellow onion
4 medium sized potatoes
1 pound Italian sausage (I use mild, but you can use spicy to kick up the flavor)
4 cups vegetable broth
1 14 oz can of evaporated milk
1 package country gravy (1 cup)
2 cups corn (1 can creamed corn will do, but if you have any fresh or frozen, that works too. If the corn is fresh enough or was frozen with the juices of the cob, then it will have a similar consistency to the cream corn and still helps thicken the soup.
Process
In a large stock pot, brown the sausage, crumbling into small pieces.
Dice the carrots, celery and onion. I use my food processor to get really fine pieces, but if you want bigger chunks, you can cut by hand.
Peel the potatoes (or not, peels are edible and good for you!) and cut into large chunks.
Once the sausage is brown, drain any excess fat (I leave a little bit for flavor) and add the celery, onion, and carrots to the pot. Simmer for about 5 minutes, letting the onions get a little soft. Stir occasionally.
Add the potatoes and broth to the pot. Bring to a boil, reduce heat to medium-low and simmer for about half an hour, until potatoes are almost soft.
Add the evaporated milk, gravy mix, and corn.
Bring mixture back to boil, stirring until thick.
You can add salt and pepper to taste, but if you use really good sausage and a seasoned gravy mix, you probably won't need it.
And there you have it! You'll have a steamy, filling chowder that will be even better when you warm up left overs the next day. And the next. I've lived off this soup for a week before.