Lumpiang Ubod is a famous Filipino vegetable dish made of ubod or the heart of the coconut palm filled in egg spring rolls. It is usually served as an appetizer.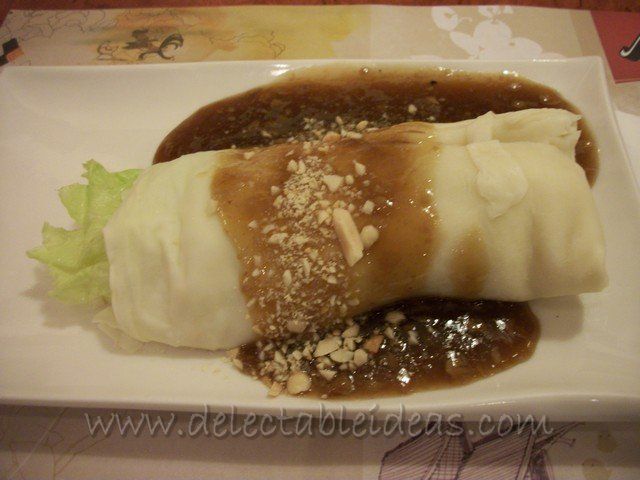 Ingredients:
Filling

¼ kilo peeled shrimps (reserve the heads)
Cooking oil
2 to 3 tbsp crushed or minced garlic
2 big onions, diced
¼ kilo pork, boiled, cut into strips (
1 big carrot, cut into small strips
1 kilo ubod cut into strips
Patis or salt to taste
Ground black pepper
Fresh lettuce leaves, thoroughly washed

Wrapper

3 eggs, beaten
2 tablespoons oil
1 cup cornstarch or flour
1/2 teaspoon salt
11/2 cups water

Sauce

1 cup washed or brown sugar
Soy sauce
1-2 tbsp Cornstarch or flour
Salt
1 ½ cups water or pork stock
Garlic, crushed

Garnish

1/2 cup crushed peanuts, to garnish


Procedure:

Make the wrappers

Beat the eggs into a mixing bowl, add water, salt and oil. Slowly add the cornstarch and  whisk thoroughly to form a smooth batter. Remove the lumps through a mesh strainer.

Use a non stick pan, turn the stove on to medium heat. Grease the pan with oil then ladle about 3 or 4 spoonfuls of the batter onto the heated pan, tilt the pan to form a thin even layer of the batter.  Cook  until the mixture separates from the pan then flip the wrapper over to cook the other side. Set aside the cooked wrappers on a flat plate.

Cook the filling

Heat the oil in a saucepan, sauté garlic and onion. Add the peeled shrimps and pork, stir fry until shrimps are cooked. Add the ubod or heart of palm. Cook over medium heat until tender.Add the carrot strips, simmer for another 3 minutes.  Season with salt or patis, and ground black pepper. Remove from the heat and set aside.

Make the sauce
 
In a saucepan, pour the water or the pork stock and brown sugar, bring to boil. Dilute flour or cornstarch in water and pour in the saucepan. Add soysauce and crushed garlic. Stir constantly until the sauce thickens. Remove from the heat and set aside to cool.

Wrap the Lumpia
 
Lay a wrapper on flat plate. Place one fresh lettuce leaf on the crepe, then place about 3 to 4 tablespoons of the filling  on the edge of the wrapper. ( the amount of filling will depend on the size of the wrapper you made). Fold one end in and roll it up.  Continue wrapping the rest of the fillings.

Once done wrapping, pour the sauce over the spring rolls and garnish it with crushed peanuts.

Serve.