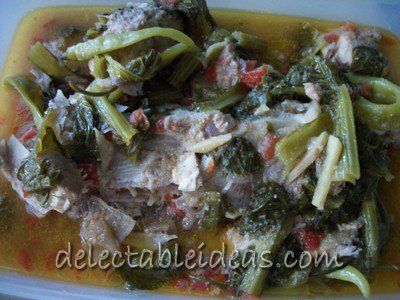 Sinigang sa Miso is a traditional sour soup recipe in the Philippines. Salmon, Bangus or Milk fish and Snapper fish head or Maya maya are the best fish choices for this recipe. To make the soup full of flavor, I prefer the Maya maya fish head when cooking sinigang sa miso.

To obtain the delicious and tasty flavor of this viand, I would recommend the fresh fish bought from the market rather than buying the frozen ones. I bought the Maya maya fish head at Php248 per kilo in the wet market nearby.

Ingredients:
Maya maya fish head, chopped into desired serving size
3 tbsp Cooking oil (or add more if necessary)
Garlic, minced
Ginger, peeled and sliced
2  big tomatoes, chopped
6 pcs green finger pepper (the long peppers used for sinigang)
½ cup Miso or soybean paste
2 -3 large bunches of Mustasa (mustard greens) cut into halves
4 -5 cups rice-water, I use the second water rinsed on uncooked rice
Tamarind sinigang mix
Salt to taste 

Cooking Procedure
Heat oil in a large wok or pot over medium-high heat. Sauté garlic until lightly browned then add onions, tomatoes and ginger.
Add miso and the fish head, continue sautéing for 2 minutes or more until the fish is slightly cooked
Add the rice water and stir to blend with the ingredients.
Bring to boil. Add and stir the tamarind sinigang mix, add the mustasa and green pepper. Add salt to taste then simmer it for another 10 minutes.

Serve with rice.  Enjoy!