Unless you are chef or spent a great deal of time creating culinary masterpieces in your kitchen, you likely don't pay too much attention to the type of knives you have. When you need to slice or cut, your only concern is on the sharpness of the knife. However, using the right knife for the job makes a big difference in terms of safety, efficiency, and results.
Knife Primer
Knives are kitchen tools just like your set of measuring cups. As with everything, using the right tool ensures a better job and saves time. As a silly example that makes the point, if you needed a cup of flour you wouldn't use a tablespoon to measure out the flour you needed. You would grab your measuring cup. The same goes for using the proper knife for the job.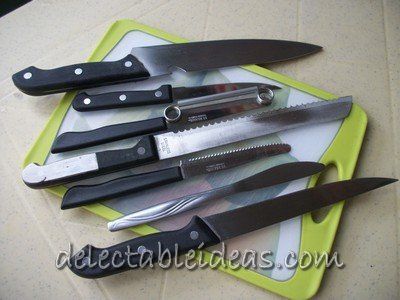 Knives come in all shapes and sizes. Short knives are best used for working with small food items held in your hands, such as when you are peeling a potato or slicing small fruit. A long bladed knife gives you a nice long even cut and is best for foods requiring a lot of cuts.
Knives are also manufactured in a variety of ways. The best knives are forged knives. They are made from quality metal and are strong and hold an edge. They are also long lasting so investing in a quality forged knife should last you for years. Stamped knives are cut from a single sheet of steel, maintain their sharpness, and are less costly than forged knives.
Picking the Right Knife
Following are some of my tips for collecting a set of knives for the typical cook:
Stay away from knife sets. Unless you know you are going to use every knife in the set you are better off foregoing the buy in bulk mentality. Put your money into a few knives that you know you will use.Ask yourself these questions. Do I need a boning knife? Do I even know what some of those knives included in a knife block set are for? If you find you are wondering about the purpose of a knife or how often you will use it then put your resources elsewhere.
Note the feel and balance. Pick a knife that feels good in your hand. Buy a knife that you can grasp easily and with a handle that won't fatigue your hand. Before purchasing a knife, handle it first. Not all knives are made the same, especially when it comes to handles.
Choose an 8 inch cooking knife. If you want to put your money into one knife, you should put it into this one. This knife will be your workhorse. It has the length to slice well, the heft to mince, and the point you can use to core or pare. Keep it sharp and it will fill a variety of needs in your kitchen.
Pick a good paring knife. Most come with a 3 inch blade. Find one with a slightly longer blade to make it more versatile. The longer blade not only lets you still use it for peeling potatoes or apples, but also makes a good tool for slicing fruit, vegetables, or cheese.
Select a quality bread knife. Not to be overlooked is the utility of a serrated knife in the kitchen to cut bread. This equates to less wear and tear on your main cooking knife. You can also count on it to slice through tomatoes with nice even strokes.
Trisha Jefford has worked a variety of jobs across the food service industry from waiting tables to being a personal chef. She is a wife and mother of two wonderful girls who put up with all of her whacky taste testing. Trisha currently blogs and writes for EZ Cater a site specializing in finding you the perfect corporate caterer.