A common question asked when our family members get home at the end of a tiring day is "What is our menu for dinner Mom?  It is not easy to think of a daily viand to cook for our family to enjoy dinner. Therefore a technique is to make a weekly menu posted at the kitchen then buy the necessary ingredients during weekends.

Here is a simple and easy to cook yet delectable beef dish – the Beef Caldereta recipe.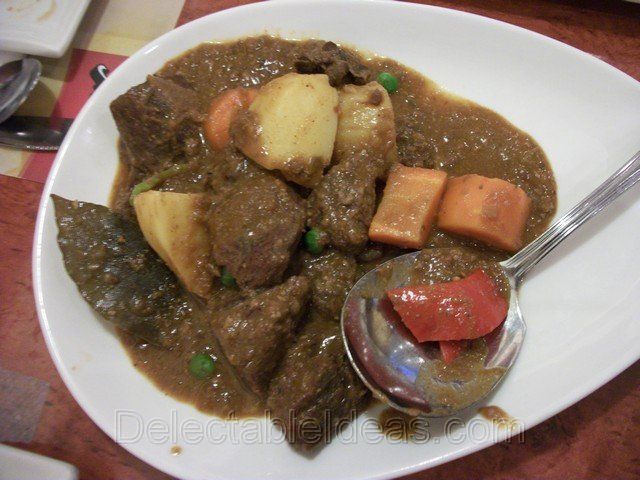 Ingredients:
8-10 cloves of garlic, crushed
½ teaspoon of peppercorns (black pepper), crushed
½ kilogram of beef (lean), cut into cubes or preferred serving portions
2 medium sized potatoes, quartered
1 to 2 carrots, cubed
½ cup cooked green peas
1 red bell pepper, cubed
1 green bell pepper, cubed
2 siling labuyo
Bay leaf
1 big onion, chopped
1 small can of liver spread
1 can of caldereta sauce or tomato sauce, whichever is preferred
Beef stock
Cooking oil
Salt or soysauce to taste

Boil beef in 10 cups of water until tender, set stock aside.
In a pan, heat cooking oil then sauté garlic and onions.  Add the meat, carrots and potatoes. Saute for several minutes.
Pour enough beef stock to make a sauce, then add the caldereta sauce or tomato sauce, liver spread, bring to boil then simmer.
Add the green and red bellpepper crushed blackpepper, siling labuyo, green peas, bay leaf, then season with salt or soysauce to taste.
Simmer until sauce is slightly thickened.

Serve with rice. Enjoy!