The ability to fly just about anywhere in the world these days via a low cost airline, means that it is now possible to sample some of the finest cuisines as they should be sampled, in their country of origin. One country that is gaining in popularity, at least in part because of its cuisine, is The Philippines, and here are 7 great dishes to try.
Lechon
One of the dishes which you must try when visiting the Philippines is Lechon. This whole roasted pig is cooked over coals until the skin is crispy, and it is traditionally served at festival time, or at important parties. Considered by many as the country's national dish, an alternative which is very popular as a restaurant dish is Lechon de Leche, for which a suckling pig is used. This is a featured dish at Casa Armas, one of Manila's top restaurants. 
Adobo

Although Lechon is considered by most people today to be the national dish of the Philippines, there are many people who believe that this honour should really go to Adobo. Adobo, which comes from the Spanish word for sauce or marinade, is again a pork dish, but this time it is sauteed and then simmered very gently in a marinade which includes, amongst other things, garlic, soy sauce and vinegar. This particular dish can also be made with chicken.
Lumpia Shanghai
As a reflection of the diversity of food available in this part of the world, another very popular dish is Lumpia Shanghai. Shanghai style Lumpia is a form of egg roll, but is unusual in that it is filled with either pork or beef. The meat is seasoned with salt, pepper and garlic, and finely chopped onions and carrots are normally also added to the mix before cooking.
Pancit Canton

Another great dish, which reflects the Chinese influence on food in this part of the world, is Pancit Canton. A colourful dish served on a bed of flour sticks or egg noodles, the key ingredient is tiny shrimps, stir fried with minced pork and bite-sized vegetables. A variation of this dish is Pancit Bihon, which uses rice sticks as its base and features stir-fried pork, chicken and vegetables.
Kare Kare
This is a wonderful dish, although it is not for everyone since it contains peanuts. The central element of the dish is a stew made from pork leg, tripe and ox tail. From time to time, you will also find that some cooks add goat and chicken to the dish. This stew is served with a thick and savory sauce made from peanuts, and is also accompanied by shrimp paste, served on the side.
Balut

Balut is a dish which is popular throughout Asia and which most people consider to be a street food in the Philippines. It is also something or an acquired taste, and many tourists miss out on this particular culinary experience simply because this is a dish which is very different from anything normally eaten in the West. Balut is simply a fertilized duck embryo, normally about fifteen days old, which is boiled and eaten in the shell. The dish is eaten in a variety of different ways according to where in Asia it is being served, but Filipinos normally season their eggs with chili, garlic and vinegar.
Halo Halo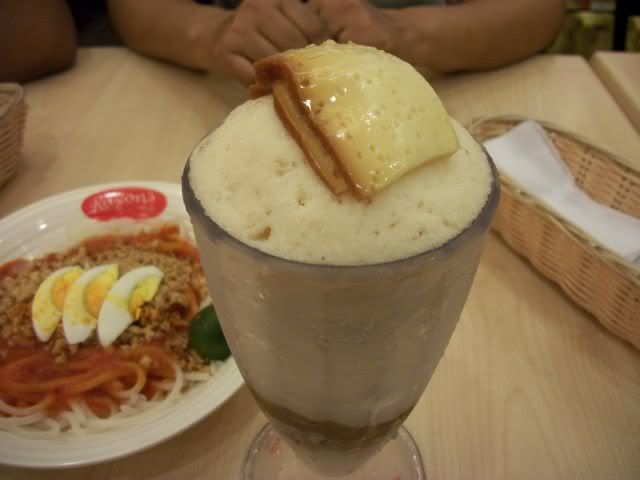 No list would be complete without a sweet and one of the most popular desserts in this part of the world is Halo Halo. Made from a variety of different boiled fruits and sweet beans, this dish is topped with shaved ice and evaporated milk and is served in a tall glass. One commonly used fruit in the Philippines is jackfruit, which is sold in markets throughout the country, and which is also delicious simply eaten raw.