Christmas is quickly approaching and for those of us allergic to gluten this can mean another tedious holiday season spent selecting can's and cannot's amongst an assortment of tempting treats.  While the internet is full of lists with all the candies that individuals with gluten intolerances are capable of consuming, who wants to carry around a list or even worse, commit these 100 odd names to memory.  At your next Christmas get together why not simplify things and bring your own treats?  While this may be a little more time consuming than picking up a bag of who-zits and what-zits from the store, your homemade gluten free creation will be sure to impress those in attendances and might even be a great platform for you to show off all that pent up creativity.
A great treat for the holiday seasons is Christmas gum.  The problem with this for the gluten intolerant is that the majority of brands out on the market right now contain gluten.  A great way around this is to simply whip up your own!  The ingredients for this project are few and relatively easy to acquire. You'll need gum base (easily purchased at a health food store, try Whole Foods or a local natural grocer), confectioner's sugar, corn syrup and flavoring extract to give your gum flavor ( I suggest cinnamon or cherry, nothing too off the wall).

To start, place 1/3 cup of gum base in a container that can be placed in a microwave. From here, you will want to add 2 tbsp. of corn syrup. Microwave this mixture for about a minute.  Make sure the mixture is heated thoroughly and add about 5 or 6 drops of your flavoring. Take the mixture out of the microwave and stir.  You will want to continue this pattern until the gum base has completely dissolved in the mixture.
Now is a good time to add a drop or two of food coloring if you want to further tweak your Christmas theme (green, white and red are obvious choices). Set the mixture aside and prepare a workspace with half a cup of confectioner's sugar in the center. Pour the heated mixture into the center and begin to knead the whole of it together until you have what appears to be smooth dough. Depending on its stickiness you may need to add more sugar.
It's after this step that you can really get your creative juices flowing. Depending on the color you chose, you have a variety of options to choose from in terms of how you will present your chewy treats.  If you made two different colors you can fashion green wreaths with red berries, or if you just chose one you could mold out tiny snowmen, snowballs or Christmas trees. To really pull out the stops, you can individually seal each piece in colored wax papers and tie the ends with colored yarn or ribbon. Wah-lah! Your homemade gluten free gum is complete!



Another excellent gluten-free Christmas goody that is a hit with children and adults alike is homemade marshmallows. They're as quick to make as they are as quick to disappear off your serving plate or in a hot cup of cocoa.  Just as with the gum, these little fellers can be fashioned into a variety of shapes and colors perfectly fit for any Christmas party. To begin you will need confectioner's sugar or colored sugar (for decorating), white sugar, corn syrup, water, unflavored gelatin, egg whites and vanilla extract.
To get things started you will need to take out a tin pan, preferably something 9×9 (for thick marshmallows reduce this size and for thinner, increase). Coat the inside of the pan with confectioner's sugar and set it aside. At the stove, stir together 2 cups of white sugar, 1 tablespoon of corn syrup and ¾ cups of water over medium heat.  Keep heating this mixture up until you are able to drop a little bit into cold water and see it turn into a firm ball.
While your mixture is getting warm, put the rest of the water in a small bowl and pour the gelatin over the top. Place this bowl over some boiling water until the gelatin has dissolved. Let your syrup mixture cool down a bit until you are able to safely touch it.  Take the syrup mixture off the stove and whisk both the gelatin and the syrup together and set this aside.
In another bowl, take your egg whites and whip them together until they form soft peaks.  Continue beating this mixture and begin to add the syrup. You'll want to be very careful at this stage as the mixture will rapidly expand!  Keep mixing until your egg whites are very stiff. At this point you can add the vanilla extract, or if you want to spice your creation up a bit, any other food coloring or flavoring can be added at this time too.  Spread the concoction into your prepared pan and let the marshmallows rest for 8 hours before cutting or fashioning them into your desired shapes.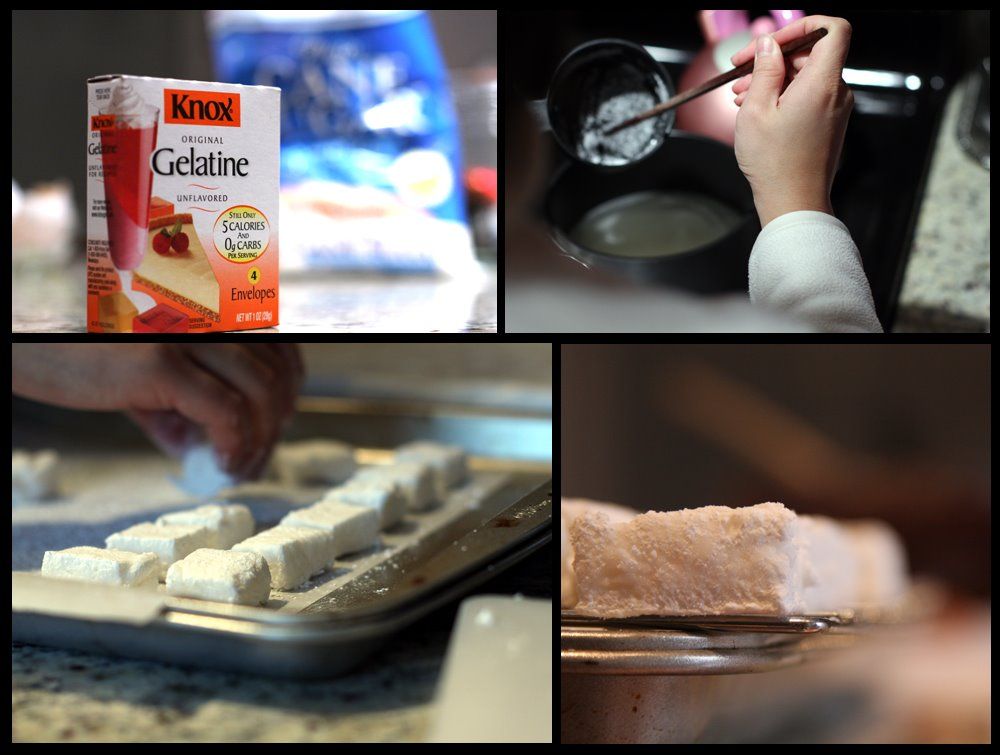 Remember, the tips and tricks I stated for tweaking these recipes for the Christmas season are by no means the final word on the matter. Feel free to add embellishments and additions as you see fit.  In the same token, these recipes can be altered for a variety of seasons. The homemade marshmallows make a great goody for Halloween time when fashioned into small pumpkins or little four leaf clovers for St. Patrick's Day!

Trisha Jefford, is a self-proclaimed foodie and wine enthusiast who loves scouring the net for new ideas and trends in food creation and presentation. She currently blogs and writes for EZ Cater who specialize in a wide variety of options for your lunch catering needs.