Tong Yang's Eat & Drink All-You-Can Buffet, is one of the restaurants I recommend if you're in the mood to have your family pig out sessions. 
My sons enjoyed cooking and grilling their own choice of food.
The ambiance is very inviting to feast on.  There are different sections in the area, a Dessert section, Appetizer section, Drinks section and the Main section where there is an array of different food choices, from sea foods to meat, veggies, noodles and a lot more.
Tong Yang's SM Fairview branch is only 15 minutes away from our place. They have a height requirement for their kiddie rate. Unfortunately my youngest son Yahmir exceeded the height requirement but it's okay because he eats like an adult lol. And just like any other eat-all-you can buffet restaurants, they are very strict in implementing the No-Left Over Policy or else they will charge you an additional fee equivalent to a regular rate for every plate with left-overs.
We went there one Sunday, lunch time with my Mom and Dad. The place was already full, luckily a family had just finished and left out so we were able to grab their table.
At first, you will asked by the waiter for your choice of soup broth –chicken nilaga or sinigang, then the waiter will fill up the center metal bowl and start heating it.  Knobs for the heat is on the sides of the table, it's up to you on how you adjust it.  Also, butter is served to grease up the hotplate for grilling. 
My children were so excited to start cooking, so they headed to the main section at once to get their choice of ingredients for the soup and selected their food options for grilling. Their lolo and lola (grandparents) accompanied them.  While my husband and I went to the appetizer section first.
I was just a little disappointed in their Dessert section, for I was expecting to see more desserts to choose from, anyway we just settled for ice cream.
We enjoyed the hearty meal, we stayed there eating for 2 hours J
my husband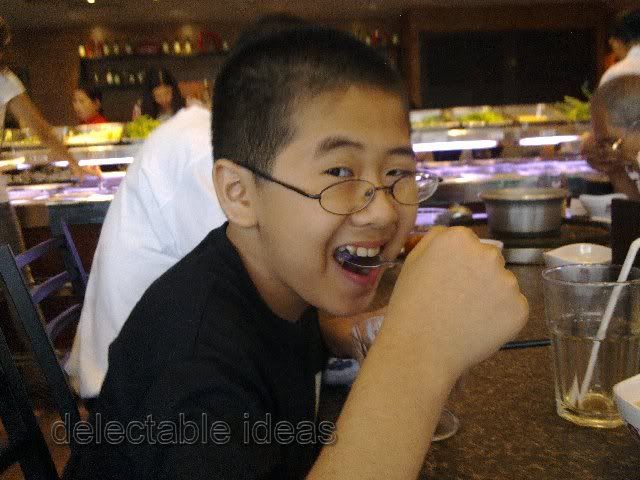 Yahmir eating ice cream for hid dessert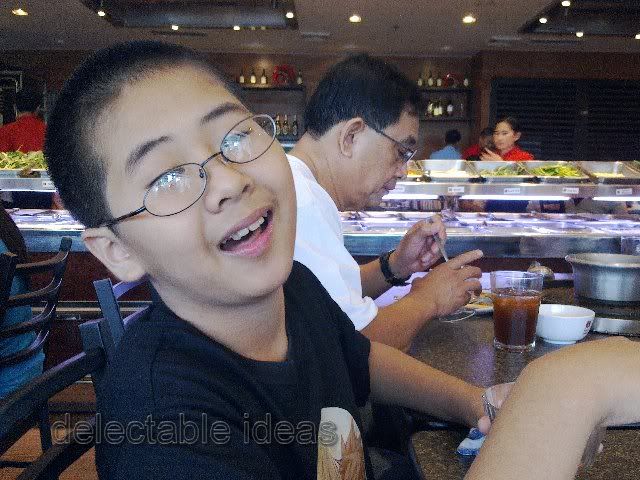 tummy's very full, look at his reaction ahaha
My Mom and Dad, far back is Noi and Yahmir getting their dessert
JM's  not feeling well, yet had eaten very well  lol
the main section
my ice cream dessert
SM City Fairview – (632) 332-5236, 351-7838
Website: None found so far
Delivery: None
Estimated Budget: ~P485 to P585/person exclusive of bottomless drinks
P485.00 only
Monday – Saturday Lunch (11:00 AM – 2:00 PM)
Additional P500.00 charge for leftovers.
P585.00 only
Monday – Saturday Dinner (5:30 PM – 10:00 PM)
Sunday Lunch (11:00 AM – 2:00 PM)
Sunday Dinner (5:30 PM – 10:00 PM)
Additional P500.00 charge for leftovers.
Payment Methods: Cash, Credit Card
Business Hours: 11:00AM to 10:00PM Daily