Cookies with chocolatey goodness in every bite
Cookie Keebler Chips Deluxe is one of the brands of chocolate cookies that I find irresistible to eat.  My sons and I enjoy munching on it as it is extra thick and loaded with generous amounts of real chocolate chips and chunks. Chocolate lovers will surely get ultimate pleasure with its chocolatey goodness in every bite.
These cookies are great to serve on an afternoon snack for kids. It can also be an instant food to serve whenever unexpected visitors come around. 
Eating it plain is already good, yet it will be more enjoyable if we can do a cookie recipe to make it more special and pleasurable to munch on.  I have found a fantastic recipe to make the cookies more appetizing to eat.
Berry Cookie Tarts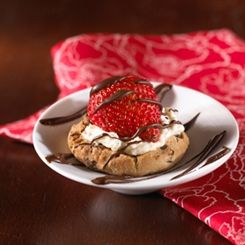 Cookies topped with fresh strawberry halves, cheesecake filling, and sprinkles of chocolate. They're easy to make and truly a yummy treat.
Ingredients:
4 ounces cream cheese, softened
1/4 cup powdered sugar
1 teaspoon grated orange peel
1/4 teaspoon vanilla
12 Keebler Chocolate cookies
6 medium strawberries, halved
1/3 cup semi-sweet chocolate morsels
1/2 teaspoon shortening
Directions:
1. Setting a medium speed of electric mixer, beat cream cheese, sugar, orange peel and vanilla until fluffy In small mixing bowl
2. Spread cream cheese mixture on tops of Keebler Chips cookies. Place strawberry half, cut side down, on each. Place on wax-paper-lined baking sheet.
3. In small microwave-safe bowl combine chocolate morsels and shortening. Microwave on high about 1 minute or until melted, stirring every 30 seconds. Drizzle over strawberry-topped cookies. Refrigerate for 30 minutes to 24 hours.
Recipe from keebler.com